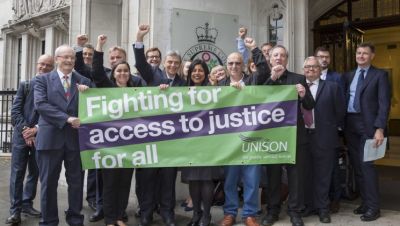 In August, British trade union UNISON won a landmark court case protecting workers' access to justice and protection against ill-treatment in the workplace.
Four years ago, the UK government introduced fees of up to €1,340 for anyone who wanted to pursue a complaint against an employer in an employment tribunal, thereby blocking poorer workers' access to a fair hearing and imposing huge costs for trade unions. The move led to a 79% drop in tribunal cases.
Following a ruling in the Supreme Court, the charges have been withdrawn with immediate effect and the government will have to repay over €30 million to workers who have already incurred fees.
"This is a major victory for employees everywhere," declared UNISON General Secretary Dave Prentis. "We took the case on behalf of anyone who's ever been wronged at work, or who might be in future. Unscrupulous employers no longer have the upper hand.
"These unfair fees have let law-breaking bosses off the hook these past four years, and left badly treated staff with no choice but to put up or shut up."
The court found that the fees were unlawful and indirectly discriminatory and that the right of access to courts is inherent in the rule of law and fundamental to parliamentary democracy.