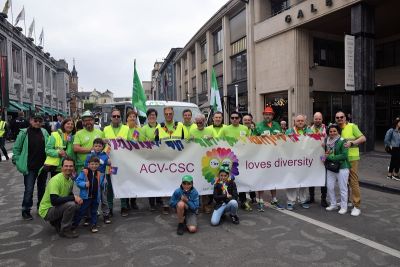 Members of the Belgian ACV-CSC union's platform for LGBTQI members, LGBT@Work, joined the Belgian Pride celebrations in May, with the slogan: 'All for One'.
ACV-CSC LGBT@Work unites workers and activists who aim to promote non-discrimination and improve conditions for homosexual, lesbian, bisexual and transgender people in the workplace. They should have the right to express their sexual identity and to receive fair and equal treatment, as well as the same career and promotion opportunities as other employees.
ACV-CSC invited all union members to join the event, emphasising that it was not necessary to be LGBT in order to take part. It also welcomed ideas and proposals for the development of the platform to be submitted by email.