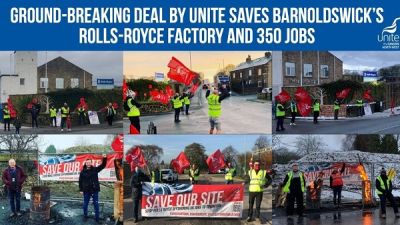 Unite the union and the management of the Rolls-Royce factory in Barnoldswick, Lancashire, have agreed on a plan to save the plant and 350 jobs that are vital to the local community.
In October 2020, the company announced plans to transfer some production to Singapore, putting the future of the plant in doubt. The new deal, supported overwhelmingly by the workforce, guarantees on-site operations for the next 10 years, with a two-year no-compulsory redundancy pledge. It will lead to the creation of a 'centre of excellence' training school for the development of zero carbon technologies and advanced manufacturing. 
"This plant has a great history, but it now has a bright future thanks to the courage and determination of these workers and the support of their friends and neighbours," said Unite assistant general secretary for manufacturing Steve Turner. "It can look forward to celebrating its eightieth anniversary in 2023, safe in the knowledge that it will play a leading role in Rolls-Royce as it repositions itself to be a key player in green manufacturing.
"I'd like to recognise the role of Rolls-Royce CEO, Warren East, who was prepared to listen to a clear alternative business case for this highly skilled, dedicated workforce. I urge others to follow suit and work with Unite to do the same."