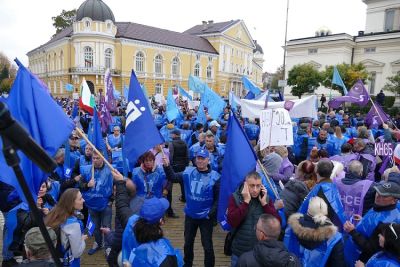 Across Europe, trade unions are fighting together to help their members meet soaring energy bills and rising living costs. Workers are paying the price for austerity, the war in Ukraine and the legacy of the Covid-19 pandemic.
In Belgium, trade unions held a general strike as part of their struggle to protect automatic wage indexation against attacks from employers and right-wing parties. In France, the CGT and FO confederations organised demonstrations calling for higher pay for all sectors, including an increase in the minimum wage. Their demands also covered pensions and social security and the right to strike. The unions estimate that around 300,000 people joined the 180 actions around the country with 70,000 participating in the main demonstration in Paris.
Thousands of trade unionists took to the streets in Bulgaria on 11 November to demand higher salaries as surging inflation hits the country. "Inflation is rising, our salaries are not", protested the demonstrators. In Romania, Cartel-Alfa organised rallies around the country leading up to a national demonstration in Bucharest. The confederation is calling for action to tackle inflation and for increases in pay and pensions.
Despite their sacrifices during the pandemic, health workers across Europe are being hit a second time by the crisis. In an unprecedented show of anger, nurses in Portugal, Ireland and the UK have voted to strike. For the British RCN it will be the first industrial action in the union's history, and in Ireland, where 95% of INMO members voted to strike over pay and staffing shortages, only the second time since the union was formed 100 years ago. "The decision to ballot nurses and midwives is not one that is taken lightly but the refusal of government as the employer to act on spiralling cost of living has left us with very little choice," said INMO General Secretary Phil Ní Sheaghdha.
Health workers have planned protests also in Switzerland and the Netherlands. In Italy, the FP-CGIL, CISL-FP and UIL-FPL health and social care unions organised a major demonstration in Rome on 29 October, calling on the new government to act urgently to address the long-term underfunding of the sector and the crucial question of understaffing. In Spain, Austria, Germany and other countries too, ETUC-affiliated union confederations have organised rallies and protests at national and local levels.