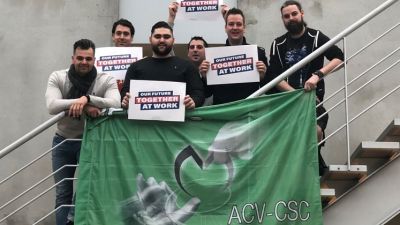 Trade union collective bargaining is helping young workers in Belgium and elsewhere to obtain better pay and working conditions.
In 2016 the Belgian government introduced unfair, sub-minimum wage levels for young workers, supposedly to create 1,000 new jobs in the wake of the economic crisis. But while the jobs never materialised, this austerity measure had a disastrous impact on the working and living conditions of some 45,000 young people, who suffered cuts in social protection and a drop in wages of up to 18%.
Belgian unions, including youth representatives from  ACV-CSC METEA (metal and textile workers) used collective bargaining to combat this unfairness. They managed to put the sub-minimum wages on the negotiating table during sectoral collective bargaining rounds and concluded 10 sectoral agreements that ensure fair wages for young workers.
Belgium, Germany and the Netherlands are just some of the countries where young workers are joining unions and winning better working conditions for trainees, apprentices and young people.