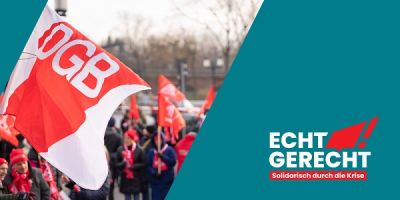 The Deutscher Gewerkschaftsbund (DGB) has put together a list of the steps it  has taken to safeguard workers' living standards in the face of rising prices and skyrocketing gas and electricity costs across Europe.
"Many of the support measures politicians have introduced would not have existed without pressure from the DGB and its member unions" confirms the federation's website.
The DGB called for a gas and electricity price brake, which the government introduced in March 2023, backdated to 1 January.
All employees and pensioners received an energy allowance of €300 in 2022, while students could claim €200 from the beginning of 2023.
The €49-euro transport ticket, valid across Germany, is due to be available from 1 May. The DGB is demanding a social ticket costing a maximum of €29.
The average housing allowance has increased from €180 to €370 - more than double. Two million households should be entitled to housing benefit instead of the previous 600,000.
Although the DGB campaigned for more, the new citizens' allowance means more money for millions of people.
A type of excess profit tax was recently decided by the EU and is also to be levied in Germany. Even if this is still far too low, it's a start.
Trade unions and employers' associations have also reached a deal to increase pay for approximately 816,000 temporary workers. The new collective agreement runs for 12 months until 31 March 2024.
Photo: DGB/Christian Plambeck