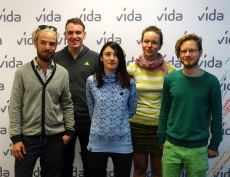 With the support of Austrian transport and services union vida, cyclists working for restaurant delivery service Foodora in Vienna have set up a works council (Betriebsrat), as a first step towards bargaining for better working conditions.
The move is another milestone in trade union organisation in the digital economy: it is one of the first works councils within an app- or platform-based business.  
As in some other European countries, works councils in Austria have legal rights to information and consultation on major business decisions. The main goal of the new works council is to negotiate an agreement on working conditions between couriers and management.
"We want to improve working conditions, for example increased pay for working in difficult conditions such as at night or in winter," said works council Chair Adele Siegl. "Without the enthusiasm and commitment of us as riders, Foodora's success as a business would not be possible. We would like the company to appreciate this and to earn our enthusiasm."
Starting from a small company, within three years Foodora's food delivery business has expanded into a Europe-wide operating group. Its services are popular in Vienna.
The works council also aims to increase the number of riders employed on secure job contracts, so as to obtain the right to paid holiday and sick leave.