As the world watches the Amazon burning in horror, the European Trade Union Confederation (ETUC) urges the EU and the international community to act decisively to save the world's largest rainforest.
The ETUC proposes that action should include
Publishing the full draft text of the EU-Mercosur trade agreement so that civil society can see if it does enough to prevent the destruction of the Amazon for agrobusiness;
Putting proper mechanisms in the trade agreement to enforce environmental and labour standards;    
Assessing the environmental, social, employment and economic impacts of the proposed trade agreement, and the assessments made public;
The EU insisting on the above points as a condition of the agreement being finalised.    
"The Amazon, like all rainforests, is a global public good that must be preserved" said ETUC General Secretary Luca Visentini. "With the world's largest rainforest on fire, President Macron is right to say that our home is burning.
"Destruction of the Amazon makes the internationally agreed objective of tackling climate change much harder, dramatically impoverishes biodiversity and threatens indigenous people's basic rights. Governments in the Amazon basin - especially Brazil – have a duty to fight climate change, protect their forest and the people who live in it, whatever President Bolsonaro might say."
"The EU needs to use the EU-Mercosur trade agreement negotiations to insist on respect for the Paris Agreement and international environmental law. Trade is supposed to benefit society, not help destroy it."
ETUC statement on EU-Mercosur trade talks https://www.etuc.org/en/publication/joint-statement-negotiations-bi-regional-partnership-agreement-between-european-union
ITUC statement on Amazon fires: https://www.ituc-csi.org/AmazonFires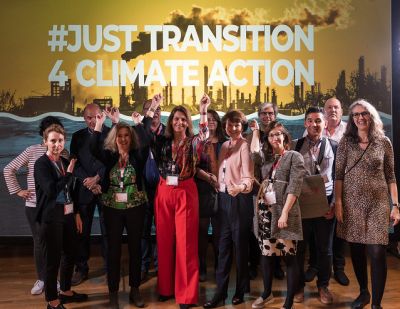 29.08.2019