Belgian and international trade unions have demanded the immediate release from prison of former Brazilian president Luiz Inácio Lula da Silva. In a letter delivered to the Brazilian ambassador in Brussels, the CSC, the FGTB as well as the ITUC and the European Trade Union Confederation stated that Lula's arbitrary imprisonment is a threat to democracy.
Trade unions in Asunción, Buenos Aires, Geneva, Jakarta, Lima, London and Rabat are also gathering at Brazilian embassies today, following protests in recent days in Madrid, Montevideo, Paris, Rome and Washington, D.C.
"Lula was found guilty by a lower court on the basis of no evidence, something that the lower court judges themselves have admitted. Lula is Brazil's most popular politician by a huge margin, and the judicial persecution of him is aimed at stopping him becoming President again," said ITUC General Secretary Sharan Burrow.
Lula's lawyers have taken his case to the UN Human Rights Council, pointing to the blatant bias of judges and prosecutors and asking the Council to recognise that "the regional court which found him guilty, Judge Sérgio Moro and the 'Car Wash' Federal Prosecutors have violated Lula's rights to privacy, right to a fair trial, freedom from arbitrary arrest, the right to freedom of movement and right to be presumed innocent until found guilty."
Previous evidence submitted to the UNHRC focused on the leaking of confidential material to the media, the unlawful issue of a bench warrant, illegal disclosure of telephone intercepts, use of indeterminate pre-trial detention against 'Car Wash' suspects, obtaining plea bargains and numerous examples of the prosecutors and Judge Moro's pronounced bias against Lula.
"The European trade union movement stands in absolute solidarity with our Brazilian colleagues and will assist in every way we can their quest to defend democracy and reinstate the rule of law," said ETUC General Secretary Luca Visentini.
"This is the latest of a series of grave threats to democracy in Brazil. The Belgian labour movement stands with Lula for the fight for the Brazilian people and their democracy," said CSC President Marc Leemans.
"We are deeply concerned by the will of the conservative forces to impeach, by all means, ex-President Lula to be candidate in a fair and democratic election process," said FGTB General Secretary Robert Vertenueil.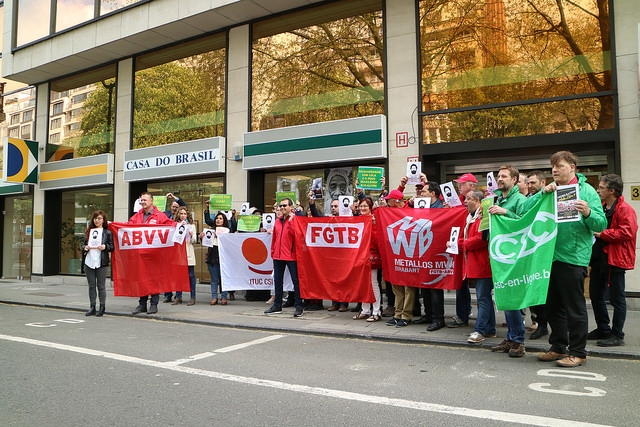 23.04.2018